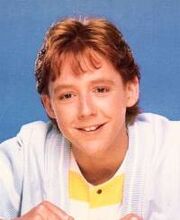 Scott Richard Grimes (born July 9, 1971) is an American actor, voice artist, singer, and songwriter. Grimes played Bradley Brown in Critters 1 and 2.
Grimes started acting at an early age. In 1984, at the age of 13, he co-starred with Mickey Rooney in a made-for-TV holiday movie entitled It Came Upon the Midnight Clear.[1] In 1985, he appeared in an episode of the Twilight Zone called "Little Boy Lost".
Grimes also began singing in childhood, and in March 1986 appeared on a Bob Hope TV special, singing "Somewhere Over The Rainbow". The special was taped in Sweden with the King and Queen in attendance. In 1987, he performed as a guest vocalist on the Time album by Richard Carpenter of The Carpenters, where Carpenter thanked the 15-year-old Grimes for his "spirited" performance, commenting in the liner notes, "I believe young Scott to have quite a future in music." Grimes' first music album, Scott Grimes, was released by A&M Records in 1989, and produced by Carpenter.
In 1987, Grimes voiced Pinocchio in the dark animated film Pinocchio and the Emperor of the Night. In 1988, he appeared with Dwayne Hickman, Connie Stevens, and her daughter Tricia Leigh Fisher in the TV movie Bring Me the Head of Dobie Gillis; Grimes, Hickman, Stevens, and Fisher also appeared on the All-Star Super Password Special with Bert Convy.[2] He had also guest starred on the NBC sitcom Wings. He is also known for his 1987 recurring role on Who's the Boss as Alyssa Milano's character's love-interest, Chad McCann.
References
Edit
↑ "Movies: It Came Upon the Midnight Clear (1984)". The New York Times. https://movies.nytimes.com/movie/63616/It-Came-Upon-the-Midnight-Clear/overview

. Retrieved October 8, 2010

.

 

↑ ""Super Password" episode guide? – GSN Buzz". Gsn.com. February 14, 2014. http://www.gsn.com/buzz/showthread.php?p=1146189

. Retrieved 2014-02-21

.