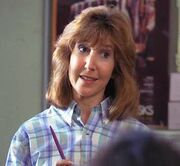 Linda Shaye (born October 12, 1943) is an American theater, film, and television actress. In a career spanning over forty years, she has appeared in over ninety feature films and is regarded as a scream queen due to her roles in various horror franchises including A Nightmare on Elm Street and Critters.
From 1980 to 1996, Shaye has appeared in four films by director Walter Hill: The Long Riders, Brewster's Millions, Extreme Prejudice and Last Man Standing. In 1984, Shaye played a teacher in A Nightmare on Elm Street. The film was distributed by New Line Cinema, the company founded by the actress' older brother Robert Shaye. She has admitted the family connection helped her a little. "My brother said, 'Put my sister in your movie!'"[1]
Interview
Edit
Billy Stamper's interview with Lin Shaye about Critters:[2]
BS: I'd actually love to go back in time for a minute and ask you about your character Sally in both Critters 1 & 2 and what it was like working with two phenomenal directors, Stephen Herek and Mick Garris.
LS: It's really about communication and kind of gentility. The best thing you can and be when you work is a good team player. In Critters, Emmitt Walsh was my scene mate basically, and he was wonderful. Then Barry Corbin played the sheriff in Critters 2.
Mick was wonderful. It was his first film, so he had all kinds of nerves I'm sure to deal with. Also, I think it was a little tricky for him because I was Bob's sister on some level. Although that didn't make any difference to me, because I come in to be a part of it and do my very best. I don't care who I'm related too, to be honest. Other people can be intimidated. I don't think Mick was intimidated, but I know he was aware.
I love Stephen Herek. I don't even know where he is or what he does today. But I had a great time with both Critters films. I love the character Sal, she was a great character.
References
Edit
↑ Collis, Clark (June 5, 2015). "How Lin Shaye became this summer's unlikeliest action star in Insidious: Chapter 3". Entertainment Weekly. http://www.ew.com/article/2015/06/04/insidious-chapter-3-lin-shaye

. Retrieved July 17, 2015

.

 
Resources
Edit