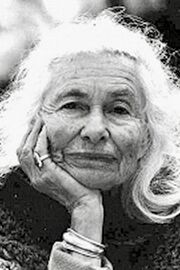 Herta Ware (June 9, 1917 – August 15, 2005) was an American actress and political activist. She is probably best known for her role as the altruistic wife of grouchy oldster Jack Gilford from the classic Cocoon film series.[1]
Ware made her on-screen debut in 1978, when she appeared in the television film, A Question of Guilt. Subsequently, she appeared in her first feature film 1980, The Black Marble. Her second feature film was Dr. Heckyl and Mr. Hype, which featured Oliver Reed. She starred in 2010 in 1984. She is perhaps most recognized for her performance in the classic film Ron Howard's Cocoon, and appeared in the sequel Cocoon: The Return. She appeared in Critters 2: The Main Course as "Nana".
Ware had roles in several other well-known films such as, Species, Practical Magic, with Sandra Bullock and Nicole Kidman, and Cruel Intentions, with Sarah Michelle Gellar and Ryan Philippe. Her role in the 1992 television film Crazy in Love earned her a CableACE Award for Supporting Actress in a Movie or Miniseries.[2]
Filmography
Edit
References
Edit
↑ IMDb, Herta Ware Biography
↑ Wikipedia, Herta Ware